Page 3 of 13
As some of you know, the ethnic group within India that I hail from is Gujarati, as in from the state of Gujarat. In my case, my parents and grandparents never really lived in Gujarat, but that is where the ancestral home is for our 'tribe'. Apart from having a distinct cuisine, language, and dress, Gujarati's are also known for their business prowess and their willingness to travel far and wide in their endeavors.
Last December, the Economist featured a wonderfully in depth article on the global spread of Gujaratis, and how they have navigated varying cultures to achieve an understated yet largely successful place in societies around the world. Even I learned a lot from it! And some of it certainly hits close to home:
For many Gujaratis the point of acquiring knowledge is to attain practical goals, particularly business goals. The Gujarati word vediyo, meaning a person who studies the Vedas, the ancient Sanskrit texts that constitute the oldest scriptures of Hinduism, has come to mean a "learned fool". Ethnic-Indian Americans have applied their practical knowledge to Silicon Valley; they are responsible for about a quarter of all startups there, and a quarter of those are thought to be Gujarati.
Despite having been born and brought up in the US, proudly first as an American and second as an Indian – I still feel stirrings of pride when I see successful Gujaratis. Mahatma Gandhi was a Gujarati, as was Muhammad Ali Jinnah (the founder of Pakistan). The current prime minister of India, Narendra Modi, is a Gujarati (though any mention of Modi should also call out his dubious role in mob violence against Muslims). The Ambani's who lead the giant Reliance corporation and who are the richest people in India are Gujarati. India's great industrialist family Tata are Gujarati Parsi's. All of these people grew up speaking the same language my family speaks and eating the same kind of food my family eats.
However, Gujarati people number only ~46 million in India (~3.5% of total population). Another ~15million live abroad, with around 300,000 living in the United States.
A recent article at NPR talks about the dominance of Gujarati's in the US hotel industry. The statistics are eye popping:
Indian immigrants and their children make up about 1 percent of the U.S. population, but they own roughly half of the motels in the country. And about 70 percent of those motel proprietors can trace their heritage to just one state in India: Gujarat.
I've of course witnessed this phenomenon myself. When my mom and I drove out to California at the start of grad school, we stopped at a Days Inn in the middle of nowhere New Mexico, off I-40. The woman behind the counter was Indian, and Mom took a guess: "Tame Gujarati cho?" Minutes later, we were sitting in their living room at the motel sipping chai and eating Indian snacks.
Going bigger than just Gujaratis, it's a pretty interesting time for Indians in America. After decades of quietly pursuing the American dream, now people are stepping more and more into the limelight. The CEO of PepsiCo (Indra Nooyi), CEO of Microsoft (Satya Nadella), CEO of Google (Sundar PIchai), CEO of Adobe (Shantanu Narayen), CEO of Mastercard (Ajay Banga), CEO of Nokia (Rajeev Suri), to name a few. Mindy Kaling, Aziz Ansari in comedy. Vijay Iyer for jazz. Sri Srinivasan (Federal Appeals court judge and possible Supreme Court nominee). Vivek Murthy as Surgeon General.
Not bad for a group of people that only make up 1% of the US population!
Comment
The Bay Area is getting pummeled with rain this weekend. After a dry February, it's been great for snow in Tahoe and our reservoirs are getting filled back up. But there is one big problem.
Luna hates getting wet.
Our little princess dog doesn't like to get her paws wet or venture out in the rain. At the dog beach, one eye is always trained on the waves and she'll bolt the moment a drop of water gets close. So, all this rainfall poses a problem. She needs to go outside for bathroom breaks, and she (and I) needs walks around the neighborhood for exercise.
And since I'm a total sucker for this dog, I got her a rain jacket. Which, of course, she hates wearing. The latest progression (or regression, depending on your perspective) is putting sandwich bags around her paws. That way she can move around but not get her paws wet and muddy. Tried this twice today and it was a big success!
Comment
Even if you don't follow sports, you have probably heard about the Golden State Warriors this season. This NBA basketball team, based in the Bay Area, has been putting on the most electrifying sports show that the world has seen in recent years (with all due respect, Leicester City). This team has followed up winning the NBA championship last year (it's first in 40 years) with a performance that is shattering NBA records left and right.
Best start to a NBA season, going 24-0 (previous record was 15-0 set in 1994 by Houston Rockets)
Best start to a season in any professional sport (previous record set in 1884 by the St. Louis Maroons baseball team)
Most number of consecutive regular seasons games going back to last season, at 28
Best road start to a season at 14-0 (previously held by the 1970 NY Knicks)
As of today, the Warriors win-loss record is 55-5. The best season record ever stands at 72-10, accomplished by Michael Jordan and the 1995-1996 Chicago Bulls. The Warriors are currently tied with that team for the longest home winning streak at 44-games.
Not only are they winning so much, but they are doing it by playing a style of basketball that is a joy to watch — players unselfishly passing the ball looking for the best shot, dazzling long range bombs, players cutting and streaking to the basket. Even seasoned sports journalists haven't seen anything quite like this before: How the Golden State Warriors are Breaking the NBA.
And they are led by one of the most astonishing athletes in all of sports: a small-sized, scrawny, baby-faced man named Stephen Curry. The reigning MVP of the league is playing on a whole other level this year. His performance this year is completely defying all conventional wisdom about how basketball is played. Writers, fans, even his peers on other teams are left slack jawed at what he's accomplishing.
I love sports, but I know some people have no interest at all in it. But I encourage you to pay a little attention to the Golden State Warriors this year. We are witnessing one of the greatest sports performances in history, and for those of you in the Bay Area, it's happening here in our backyard.
A few days ago, they played the best game of the entire NBA season against the Oklahoma City Thunder. Enjoy the highlights here:

Comment
This week I came across a really terrific website on hardware innovation on the O'Reilly website. Not the O'Reilly of the Fox News blowhard, but the publisher for those technical books with animal drawing covers. The coverage of topics is broader than most and the content quality is fairly high. In particular, the Hardware Podcast features some really intelligent discussions on hardware topics — beyond the cliched "hardware is a commodity" mantra you hear from most other tech media outlets. (As a bonus, I really dig the overall feel of the website. It's like a modern tech-savvy take on The Economist.)
The discussion on data ecosystems for the Internet of Things with data scientist Rachel Kalmar and the talk on industrial sensors with Sanjit Biswal of Samsara are two good starting points.
Comment
Huge congrats to my friend Paul and the rest of his fellow team at Eero for shipping their first product this week. Eero offers a sophisticated mesh WiFi networking solution but that's super easy to setup and is incredibly high performance.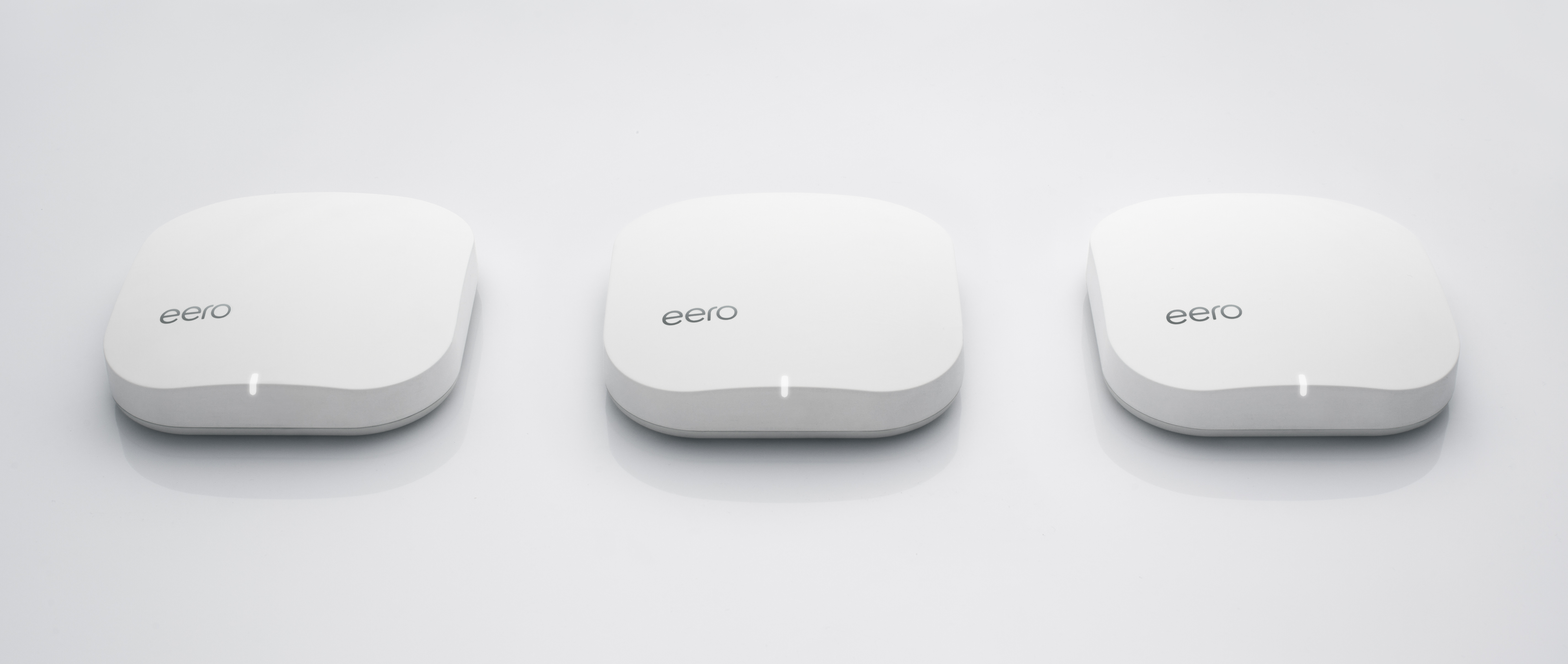 Usually this sort of advanced WiFi networking is found in corporate offices, but Eero brings this to your home. No more dead zones, no setup troubles, super fast WiFi all throughout your house.
Paul, who I worked closely with at Apple, joined Eero very early on and lent his vast experience in engineering program management toward helping Eero ship. Mine is set to arrive tomorrow and can't wait to try it!
Comment
Spotify's Discover Weekly playlists have been a great way for me to find new music. I don't know exactly what inputs feed into their recommendations, but I've been pleasantly surprised by some of the new songs and artists I've heard through it.
Here are some of my keepers from the last few weeks:
Also, a feature request to Spotify: I'd love to be able to see the Discover Weekly playlist of my friends!
Comment
Last weekend, Chrissy and I went to an open house in the lower Westside of Santa Cruz. The location was a dream — just three houses away from the ocean off Westcliff Dr. This is the sunset view less than a hundred yards away from it:
Turns out that Melissa's (the amazing head of talent and recruiting at our company and third generation Santa Cruz resident) father is a general contractor who has been building homes for forty years. He graciously met us at the open house to offer an assessment: it was in bad shape. As in, more expensive to salvage through remodeling than demolishing it and starting fresh.
This July it will be two years of living in Santa Cruz. We absolutely love the house we're renting now, and have a great landlord. But we're also keeping an eye out for a place of our own. Based on the state of the blistering hot market, a question presents itself: build or buy?
It'd be insane almost anywhere else to spend $700,000+ on a home only to level it, but many homes we've seen have barely been touched since they were built more than fifty years ago and it shows. And newly built or remodeled homes — being much rarer finds — carry a premium price tag. Building from scratch has an allure. Creating the floor plan you want, the big and little features you've always wanted in a home. And we are used to managing complex projects, though admittedly construction is a much different ballgame. But it's a lot of work, and takes a lotof time. Say we bought a property. For first-timers like ourselves, budget 4 to 6 months to architect the house, do the inspections, and permitting. Then there is a 6 month backlog at the county office which reviews new plans. Then a neighborhood forum where our block can comment on our proposal. If we are near the water, then we also have to pass the Coastal Commission review. It could very well be 12 to 16 months before we even start construction. Meanwhile, we're carrying a mortgage plus rent payments for the place we're actually living in. Not to mention we're be spending every weekend and most mornings and nights around the construction site making sure things are on track. Are we mentally ready for that? Are we ready to put all the other things we want to do on hold for that? Or would we rather just pay the premium to buy a ready-to-move-in place and start enjoying a place of our own immediately?
Seeing this open house and its to-die-for location served a forcing function to make us talk in depth about what we really wanted in a way that we haven't done before. How conservative or bullish should we be in our budget, given the uncertainty of our company will do? How much can we comfortably afford if we go to having just a single earner? Big, deep, questions.
We ultimately passed on making an offer for that house three houses off Westcliff. It was getting offers $110k over asking. Shakes head.
Comment
A pitch perfect Saturday hike through DeLaveaga Park, Santa Cruz.
Walt Mossberg, an influential technology columnist, wrote a piece earlier this month at The Verge about the declining quality of Apple's software. In it, Mossberg describes examples of unfinished, poorly implemented, buggy features exist across the entire ecosystem of Apple's software offerings — with the biggest offender being (of course) iTunes.  He writes:
In the last couple of years, however, I've noticed a gradual degradation in the quality and reliability of Apple's core apps, on both the mobile iOS operating system and its Mac OS X platform. It's almost as if the tech giant has taken its eye off the ball when it comes to these core software products, while it pursues big new dreams, like smartwatches and cars.

…

Apple's advantage is that it designs and builds software together, so if the software isn't excellent, it does the superlative hardware a disservice.
It should be noted this article comes thirteen months after Marco Arment's galvanizing "functional high ground" editorial.
Apple's hardware today is amazing — it has never been better. But the software quality has fallen so much in the last few years that I'm deeply concerned for its future. I'm typing this on a computer whose existence I didn't even think would be possible yet, but it runs an OS with embarrassing bugs and fundamental regressions. Just a few years ago, we would have relentlessly made fun of Windows users for these same bugs on their inferior OS, but we can't talk anymore.
I couldn't agree more with Mossberg and Arment. I've lived in Apple's software ecosystem since 2008, where I started as an intern at Apple. I've used six generations of OS X and iOS. And lately it seems that everywhere I turn, Apple's software falls below expectations.
I'll set aside my two hour call with Apple Support dealing with an iCloud storage billing issue with Family Plans that never got resolved despite three escalations to experts. Here's just one straightforward example:
I bought my wife a iPhone6S last fall. She was using an iPhone5S running iOS. Knowing that iPhone backups struggle across major OS versions, I suggested that she update her phone to the latest iOS (version 9.1) and do a backup to her Mac laptop. After unboxing her brand new phone, she plugged it in and tried to restore from the backup. iTunes threw a cryptic error message claiming the backup wasn't compatible. It took my wife and I (who have 10+ years combined of new product development work experience at Apple) nearly 20 minutes to figure out that the newly unboxed phone was running iOS 9.0.2, but her backup was done using iOS 9.1. Apple apparently couldn't be bothered making backups compatible between 9.0.2 and 9.1. So the fix was to setup her new phone as a brand new phone, update its OS to 9.1, then re-restore the phone with her backup.
My parents would never have been able to figure that out on their own. Even more shameful was that Apple couldn't even bother with putting a more helpful error message. It could have known what OS version the backup was made in, and what version the new phone was at, and suggested that we first update the phone's OS. But no.
In response to the Mossberg article, John Gruber of Daring Fireball wrote:
Software and hardware are profoundly different disciplines, so it's hard to compare them directly. But it seems obvious to me that Apple, institutionally, has higher standards for hardware design and quality than it does for software.
As a former Apple hardware engineer, I believe this is absolutely true. The public will never know the hardware-related issues that we lost sleep over — issues that any other company would have just ignored or allowed to ship (or rather, would never know about because they wouldn't bother testing or looking for such issues). It was so disappointing to see how much energy we put into striving for perfection in the hardware, only to see poorly conceived, terribly implemented, and inadequately tested software drop the ball for our customers.
Comment